Since the 1990s, foreigners from all over the world have been coming to Vietnam to invest. For many entrepreneurs, this is the greatest moment to start a business in Vietnam since the country's purchasing power has increased and the Vietnamese are eager to spend their money on goods and services.
According to the World Bank study, Vietnam was ranked 70th out of 190 nations in the world for doing business in 2020. The study also said that there has been a considerable improvement in conducting business in the country. For example, foreign direct investment increased by 7.4% year on year in October 2019.
Since foreign investors' confidence has improved tremendously, the business registration in Vietnam has also increased substantially.
Most of the investors opt for a foreign limited liability company. However, if you're an investor seeking a more convenient option or would like to test the water in the Vietnamese market first, a branch office or a representative office could be your option.
The Differences between Representative Office and Branch Office in Vietnam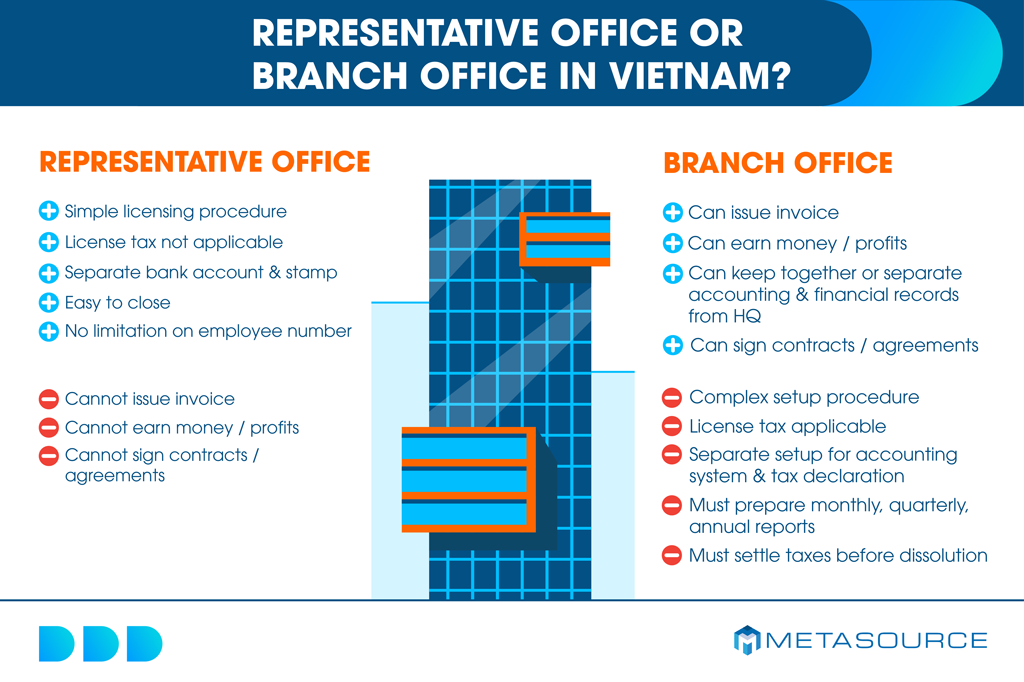 There are considerable differences between a representative office and a branch office for business registration in Vietnam.
Below, Metasource is sharing the pros and cons of both types of legal entities in Vietnam:
Plus Points of a Representative Office
The licensing procedure is simpler

The license tax is not applicable

It has a separate bank account and stamp

Much easier to terminate the entity if the business doesn't work out

Foreigners can run the office legally with no restriction on the number of employees
Minus Points of a Representative Office
No issuance of the invoice

No profit-generating business activities are permitted

Not allowed to sign contracts or agreements on its own without the authorisation from the parent company
Plus Points of a Branch Office
Issuance of VAT invoice on its own

Full business activities are permitted. For instance, inventory, manufacturing, and trading

Accounting and financial records

can be kept together or separated from the headquarter

Entry into and amendments to contracts or agreements are allowed
Minus Points of a Branch Office
More complex setup procedure and business registration in Vietnam

The annual license tax is applicable

The accounting system and tax declaration must be set up separately. Monthly, quarterly, annual reports for compliance are required as well

All

tax obligations

or final tax settlement must be clear before the termination of a branch
The Best Option for Business Registration in Vietnam
Between the representative office and the branch office, a foreigner's best option for business registration in Vietnam could be either of them – depending on your business goals in Vietnam.
If you wish to participate in income-generating business activities such as trading in Vietnam, a branch office will be more ideal.
On the other hand, you should consider setting up a representative office if your key purpose is to make a presence in Vietnam and do market research. This is because a branch office setup needs more time and expenses.
RELATED: Vietnam Resolution 105 assisting Businesses Affected by COVID-19
How Metasource can Assist
We understand it well that starting a new business in Vietnam can be a tough task when there's a steep learning curve for foreigners to grasp the country's laws and regulations.
The specific procedure for business registration in Vietnam may seem complicated, or even confusing.
However, if you follow the guided process with the right, professional support, it is far simpler than you may think. That's why entrepreneurs are recommended to conduct business registration in Vietnam with an experienced consultant.
Metasource will handle the whole procedure on your behalf, and take the hassle out of your business registration in Vietnam. Get in touch with us now by filling in the form below.