The eCommerce industry is rapidly expanding in Vietnam. Among the most dominant market for rising technology in its region, Vietnam's annual growth rate is 25%, dominating 5,5% of total consumption goods, which equals 11,5 M market cap. It is yet to mention; Tiki is among the Vietnamese-born leaders in the shopping eCommerce platform.
Tiki is not just a platform but an eCommerce ecosystem
Born in March 2020, Tiki is now the second-largest eCommerce shopping platform in Vietnam and among the six most populous online shopping platforms in South Asia. In 2018, HR Asia awarded Tiki The ECommerce Industry Best Place to Work. Besides its online shopping platform and ideal working environment, Tiki is an all-in-one eCommerce ecosystem consisting of member companies including:
TikiNOW Smart Logistics: provides end-to-end logistics services.

Ticketbox: sells leading events or movie tickets.

Tiki Retailer, Trading, and Exchange: offers 10 million products from 26 categories serving millions of customers nationwide.
Especially, TikiNOW Smart Logistics will be responsible for the entire logistics of Tiki and may provide B2C, B2B2C transportation services for other businesses.
Why Tiki over other competitors?
Started by adopting the B2C business model, Tiki expands to the C2C business and still manages to deliver excellent services and after-sale foundations. With the motto "All for Customers," Tiki works to satisfy its customers. For instance, if your order on Tiki got canceled, Tiki will soothe its customers by sending an apology email attached with a discount code for the next purchase.
Furthermore, to secure high-quality services for buyers, Tiki has strict regulations that require sellers to provide personal information, verifying the origin of products thoroughly. Therefore, customers have high shopping confidence in Tiki. 
Despite its giant competitors – Shopee, Tiki has an edge-cutting advantage, TikiNOW. With outstanding process management, TikiNOW is able to deliver products to customers within 2 to 3 hours.  
Recently, Tiki adopts influencers advertisement to reach a larger pool of customers. Ngoc Trinh, Chi Pu, Truong Giang, Nha Phuong are some of the names that Tiki invited to expand its brand recognition. 
How will Tiki compete with Shopee and Lazada in the Vietnam market?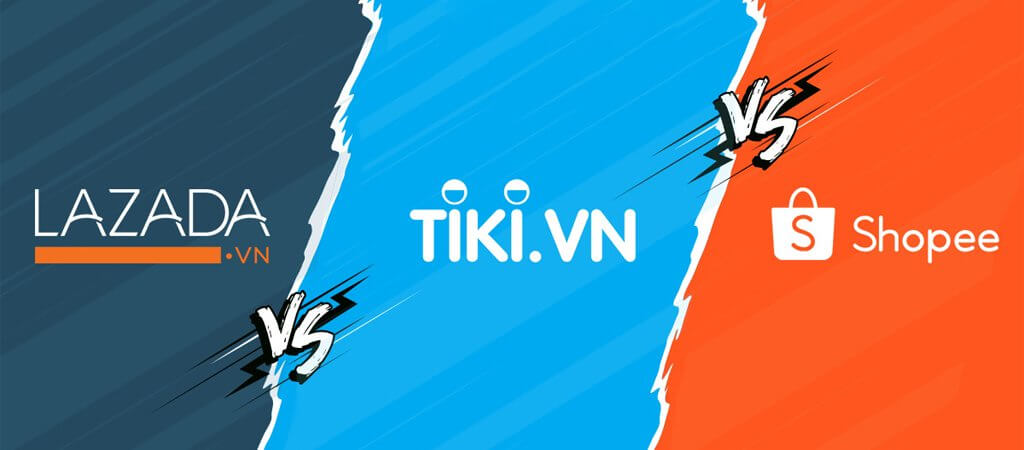 The Vietnamese eCommerce industry is highly competitive with foreign competitors such as Lazada or Shopee. Especially, Shopee is now leading the growth of the Vietnamese eCommerce platform. However, it does not mean that Shopee is the sole player. Recently, Tiki's merging attempt with Sendo in summer 2020 indicates Vietnamese domestic platforms' desire to lead the industry. 
Taking a different route from its competitors, Tiki focuses on customers' satisfaction. Interestingly, while Shopee associates with a fun brand image, Tiki brings premium and trust to customers' online shopping experience. 
Additionally, Tiki is steadily improving the users' experience with TikiNow and TikiLIVE. While TikiNOW, allowing Tiki to deliver goods in two hours, is Tiki's competitive edge, Tiki is developing Tiki Pro, which provides in-time delivery. Also, by launching TikiLIVE, Tiki allows sellers to live stream on its online shopping platform, bringing more trustful reviews to buyers. 
Despite Shopee and Lazada's massive influence in Vietnam, Tiki potentially can lead the Vietnamese eCommerce market in the future. Tiki's strategic moves gradually distinguish Tiki from other competitors with a progressive spirit, creating a brand signature. 
If you are interested in Tiki's competitors, Metasource studied how Shopee is doing in Vietnam. To learn how to build a shopping eCommerce platform in Vietnam, contact Metasource for consultation.