There are several aspects to consider when choosing a new office space, and it all begins with a decent location. Make a checklist out of this advice to get your business up and operating quickly.
Best Spots to Build an Office in Vietnam
Your choice of office space to rent may have a big impact on your company's performance. It requires some thoughts and awareness to arrange the necessities before opening an office in Vietnam.
The city's urban area includes 18 districts, where are some of the top places to start a business? In terms of commercial activity and individuals searching for office space to rent, there are three sectors that stand out the most.
District 2
The heart of district 2, Thao Dien is known for its expat community. District 2 is not short of office location, but among the many coworking offices in the area; the Saigon Coworking stands out the most with its modern design. The space is suitable for entrepreneurs, foreign companies, freelancers, and digital nomads. 
Tân Bình District
The region is notable for its tree-lined boulevards and green parks, but it is also teeming with activity because of its abundance of restaurants, entertainment, coffee shops, banks and hotels nearby.
Phú Nhuận District
This area ticks all the boxes if you're looking for a quiet, friendly and affordable spot for you and your team to get down to work. Located in the calm neighborhood of Phu Nhuan, Saigon Coworking Phu Nhuan is surrounded by cafés and restaurants. The area also offers banks, hotels and a local sports center with a pool. This space has a long-standing community with a diverse range of entrepreneurs, developers, freelancers and other professionals.
Office Space Prices in Ho Chi Minh City
A practical point to consider for the business as a nice location might be more expensive. Depends on how much workspace required, and if your team has a hybrid schedule, your office size will have to adapt to your needs. Below are the office prices for your reference!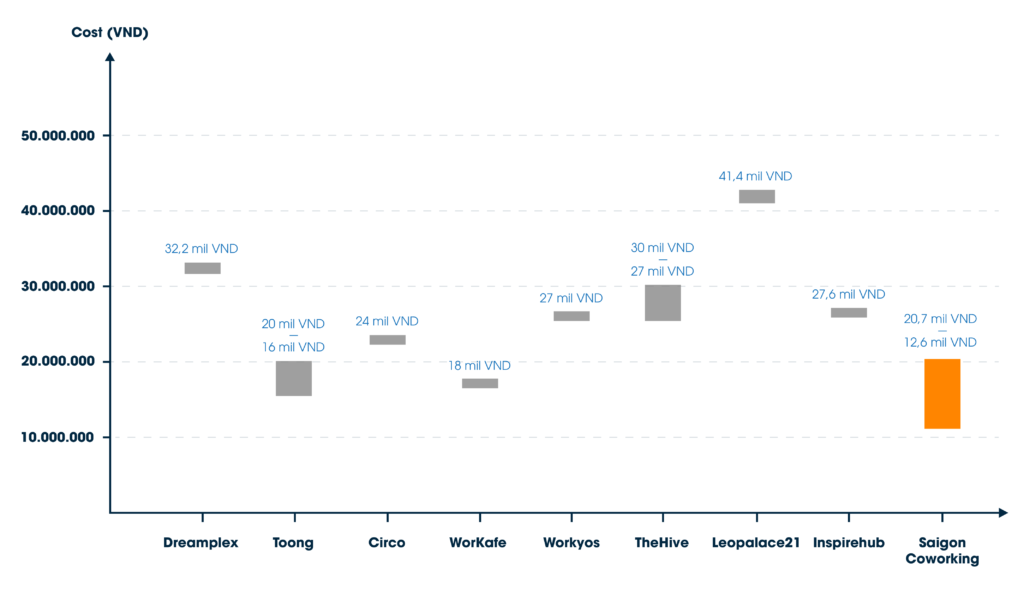 5 Things to Consider When Choosing an Office Space
When looking for an office space to rent, District 2, Tan Binh and Phu Nhuan are fantastic places to start. Next, evaluate the following five factors for your workplace:
Accessibility – When selecting an office site, make sure that it is easily accessible by both public and private transportation for the convenience of your employees, partners, guests, and visitors.
Amenities – The environment in which you operate should be dynamic in order to accommodate your company's business strategy, space requirements, and working style. You may simply receive a business-ready workspace with comprehensive facilities, such as business lounges, café areas, meeting rooms, stationery and printing, with a flexible office space.
Cost – A practical consideration for businesses. A good location can come at a higher cost. Think about how much space you need, and if your team is working on a hybrid schedule, your office size will have to adapt to your needs.
Size – The size of an office space can influence the performance and productivity of your team. Choose one that provides the optimum amount of space, and on top of that, opt for locations that provide a third place like lounges and breakout areas for people to unwind and recharge.
Scalability – With the evolving business environment, many companies choose to have the flexibility to respond to changes and adjust the size and cost of their space accordingly. Consider a flexible office space if you require the agility or the option to scale when it arises
Should You Try Coworking?
If you just want to go in, get your work done and then leave, and you're concerned about any social obligations: don't be. It's like the gym. Everyone is there to do a very specific task, and if you are in the zone, nobody is going to bother you. If you're open to chatting and being approached, you'll meet some great local entrepreneurs and build a coworking community. If you're feeling stagnant in your business, your startup, your app, your blog, or whatever else you're working on… spending some time coworking could be exactly what you need to get things flowing again.
If you're curious about trying out coworking, the best thing you can do is shoot us an email: info@metasource.co or give us a call: 0985214093 or fill up the form below to contact our local experts directly.