Vietnam IT industry is developing rapidly and the country has gradually become an important destination for international tech entrepreneurs and local home-grown startups. The most significant developments are in their communications structure, software, and educational technologies. It is believed that Vietnam will soon transform into a full-fledged IT player in the world.
As of 2017, the IT industry in Vietnam has hit revenue of more than US$70 million, creating 780,000 jobs. Vietnam is also ranked 8th as one of the world's leading IT services providers. With a population of more than 96 million, the active internet user penetration has hit more than 55 million people and the number will continue to grow until 2023 – approximately 76 million people will access the internet actively regularly.
Opportunities and Challenges in the Vietnam IT industry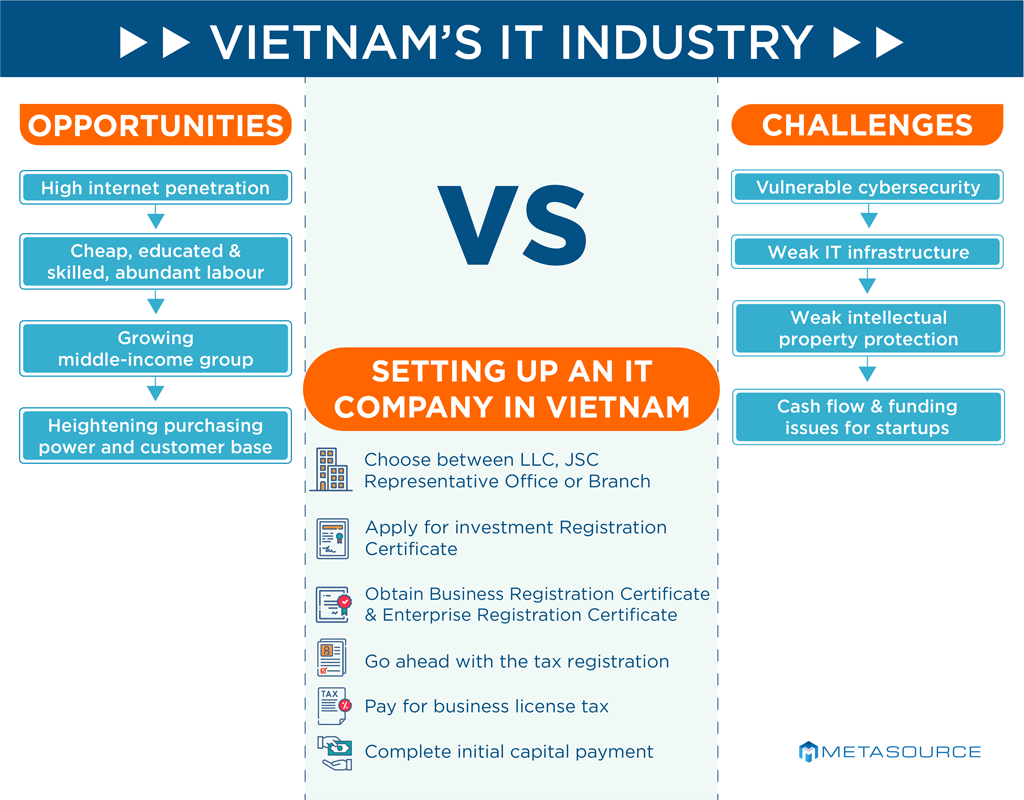 Apart from high internet penetration in the country, cheap, educated and abundant labour are also the reasons the IT industry in Vietnam mushroomed so quickly with so many foreign companies investing heavily in it.
Other untapped potential include the growing middle-income group, heightening purchasing power and customer base, and increasing highly skilled graduates.
Some notable foreign investments in the IT industry in Vietnam include Samsung and LG. These two are Korean giant corporations – Samsung has invested US$17.3 billion to build eight factories and a research center in Vietnam, and LG injected US$1.5 billion to construct a factory in the country as well.
In addition to the Korean companies, U.S. corporation Intel has also spent US$1.04 billion to build a facility for testing and chip assembly in the dynamic Ho Chi Minh City.
Despite the many opportunities, the challenges of the industry are also evident. Some challenges the IT industry is dealing with are startups' cash flow and funding issues; weak intellectual property protection; vulnerable cybersecurity; and overall IT infrastructure.
How to Establish a Company in Vietnam
Establishing a Vietnam IT industry is now a tempting option for many international investors. Setting up a company in Vietnam has to start with choosing the right entity and there are three major types:
Limited liability company (LLC)
An LLC can be foreign-owned, locally-owned or partly foreign-owned. This is the most common choice for small or medium-sized companies, especially single investors. This entity is not permitted to be publicly listed.
Joint-stock company (JSC)
A JSC is suitable for companies in medium or large sizes. The structure of this type of entity is more complex and it must have at least three founders. Public listing is allowed for this type of entity.
Representative office (RO)
An RO is often set up for foreign companies to do local market surveys and establish a presence. No business activities for earning profits are allowed.
Branch office (BO)
This is just an extension of the parent company overseas.
Procedures for Company Registration in the Vietnam IT Industry
Apply for an Investment Registration Certificate at the Department of Planning and Investment.
Obtain a Business Registration Certificate and an Enterprise Registration Certificate.
Once investors have acquired all certificates, they should go ahead with the tax registration.
Pay for business license tax.
Complete the initial capital payment.
Metasource Can Assist
Investing in the Vietnam IT industry offers investors a lot of commercial benefits, especially in this dynamic region that is full of exciting business opportunities. However, starting a new company in a new country may be relatively challenging as you need to deal with new laws, culture, and business requirements. At Metasource, we can assist you to establish a company in every industry including the Vietnam IT industry.
We have a team of local and international professionals to provide you with customised market entry solutions and other business consulting services. If you would like to get further information on setting up a company in Vietnam, fill in the form below.