Vietnam's economy has been growing rapidly ever since major economic and political reforms (known as Đổi Mới) were introduced in 1986. Fast forward to present day, and Vietnam continues to sustain its economic progression. In 2020, while most of the world struggled to combat COVID-19, Vietnam successfully limit the virus spread. Not only that, it also netted an impressive 2.91% GDP growth. Clearly, Vietnam shows a steadfast commitment towards economic growth, which has attracted a lot of foreign investment: FDI inflow in 2020 alone was over US$28 billion. This begs the question: Why should you trade in Vietnam? In this post, we give you a brief overview of the reasons why you should.
Vietnam Trade Agreements
Vietnam is committed towards integrating into the global economy, and looks to continue developing its trade sector. It has entered into numerous multilateral free trade agreements, such as the Regional Comprehensive Economic Partnership (RCEP), Association of Southeast Asian Nations (ASEAN), and Comprehensive and Progressive Agreement for Trans-Pacific Partnership (CPTPP). Additionally, Vietnam is also part of several bilateral trade agreements globally, which allows Vietnam to concentrate production on specific industries effectively. Some landmark bilateral trade agreements include EU-Vietnam FTA (EVFTA), UK-Vietnam FTA (UKVFTA), and Vietnam-Japan EPA (VJEPA).
With such a robust diversification of trade, Vietnam's economy promises many avenues for trade, presenting attractive opportunities for foreign investors. Not only that, trade liberalization allows Vietnam to double-down on its financial security as well, ensuring stability over the long run.
Optimal Location for Trade 
Vietnam is located in the heart of Southeast Asia. Sharing a northern border with China, Vietnam is also relatively close to East Asia, making shipping routes accessible. Additionally, the whole eastern side of Vietnam is a coastal border which spans over 3000km. Additionally, it has 44 seaports and a total capacity up to 500 million tons per year. With a total 320 shipping ports of which 163 are international ones, there are plenty distribution routes and channels for businesses to explore.
An Impressive Labor Force
Regionally, it is tough to beat Vietnam's impressive labor force. By sheer numbers alone, Vietnam's labor force totals 56.5 million, with 55.5 percent of the total population below 35 years of age, according to the 2019 Population Census Report. With major advancements in education as well, a young, skilled, and work-ready population gives foreign businesses promising employment opportunity. While wage increases have been higher than productivity gains, labor cost still remains low regionally — below we compare Vietnam's minimum wages to others' within the region: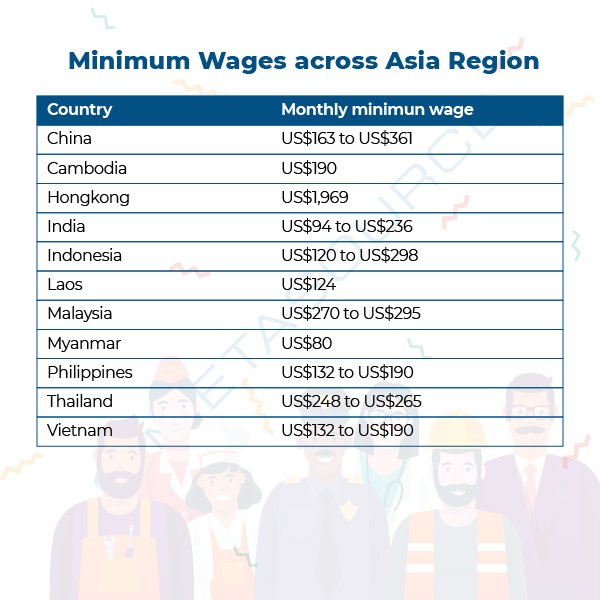 Although there are other countries with lower labor costs, most of them do not have the same level of infrastructure, economic openness, nor labor productivity that Vietnam has. And while productivity increases lag behind, government reforms are underway to fix that.
A large, skilled labor force also presents opportunity for efficient business-outsourcing as well. Learn more about outsourcing to Vietnam here.
Import Export Market Overview
What products are 'in', and what countries are 'in', in Vietnam? Below, we have a series of infographics to give you an overview of Vietnam's import/export markets. The first one lists the major import/export partners with Vietnam, and their total market value in 2019: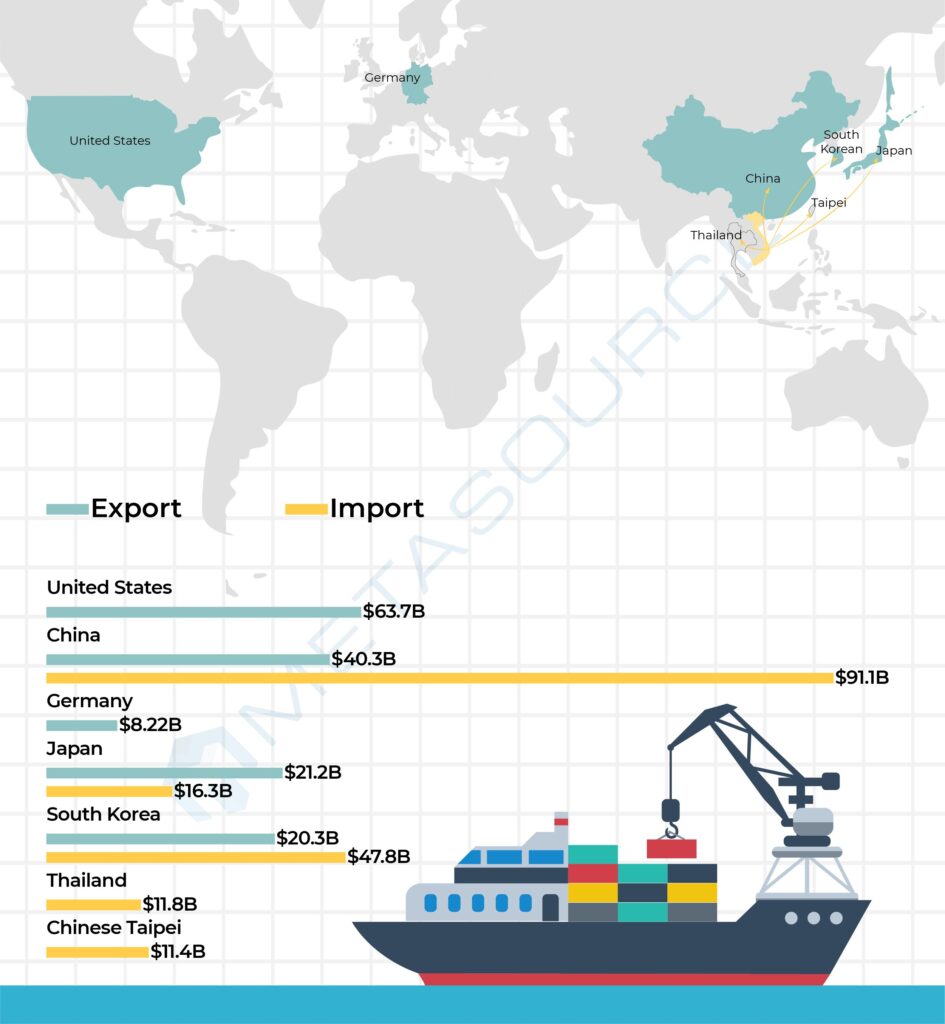 Second, we have a graphic showing the major import/export products in Vietnam, and their total market values in 2019: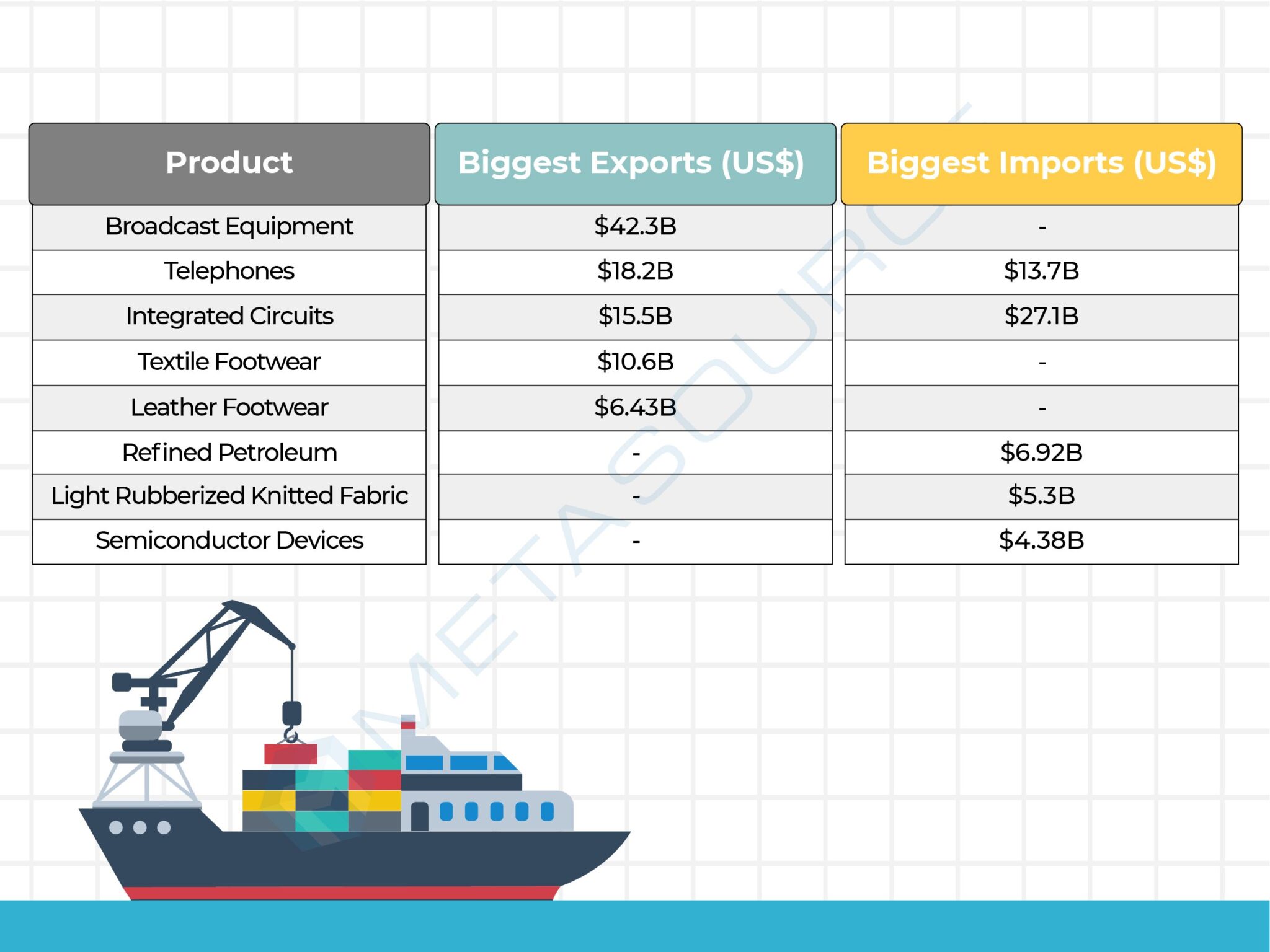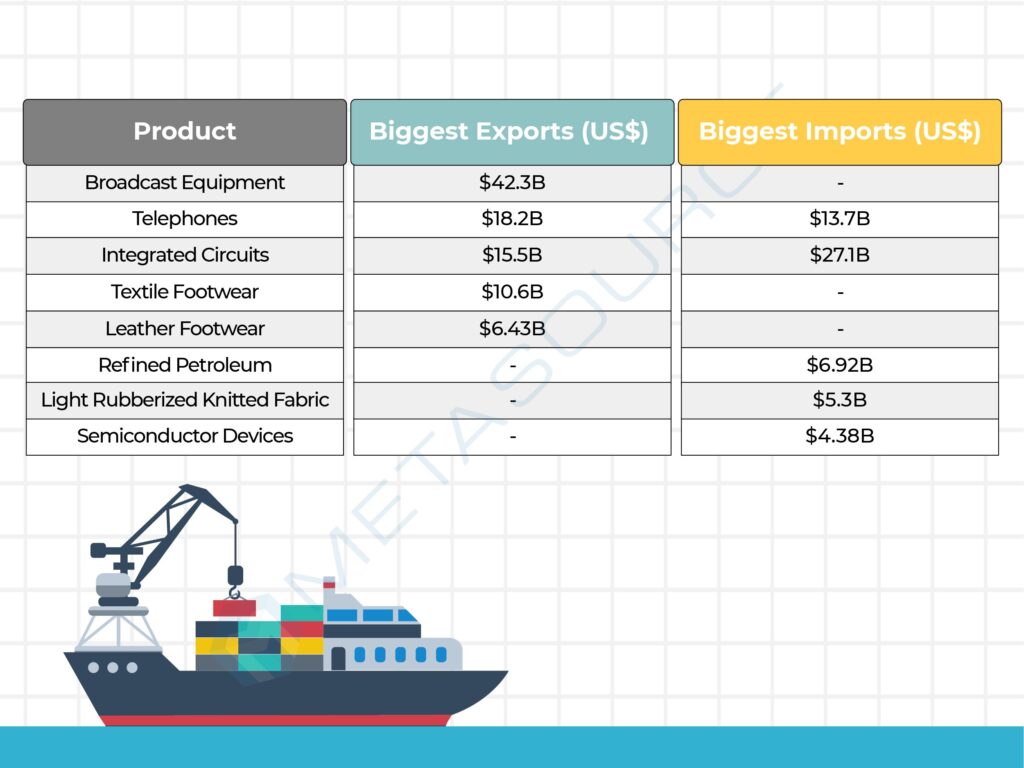 So, Should You Trade in Vietnam?
Clearly, Vietnam's trade sectors presents ample opportunity for foreign investors. If you are looking to expand into the Vietnam market, it may be wise to consult a regional expert. Metasource offers services to aid your expansion, whether it be legal matters or recruitment services. Contact us at info@metasource.co to receive a free consultation.