Is coming to Vietnam in the 3rd or 4th quarter of 2021 part of your plan? Due to the COVID-19 situation, there have been some changes in the immigration requirements and restrictions in Vietnam. Read on to learn about the latest updates Entry Guide In Vietnam 2021.
Flights from and to Vietnam
Currently, Vietnam has just restored commercial flights to six cities in: China, Taiwan, Japan, Korea, Taiwan, Cambodia, and Laos with a mandatory 3-week stay in a quarantine camp. The commercial flights between Singapore and Vietnam has been no news so far and until the first quarter next year. Therefore, all flights from Singapore to Vietnam must be approved and licensed by the Vietnamese Government (specific flights). For any foreigners looking to come Vietnam must obtain a Specialist Visa.
Entry Guide In Vietnam: Restrictions and Quarantine
The up-to-date regulations about the instruction of quarantine has untightened the term of quarantine to the foreign experts who immigrate into Vietnam from the countries that have controlled the pandemic (countries with no new cases for the last 30 days, this list might be changed at any time) well.
The time of quarantine in centralised quarantine centers has increased to 21 days as a result of the onset of the Delta variant. They must stay in a government-approved quarantine hotel for the duration of their stay and take a (COVID-19) test 3 times and on.
The following is the procedure of examination and quarantine to undertake if you want to go in Vietnam:
1. Before entry
Register with a concentrated facility for quarantine upon arrival in Vietnam together with a specific work schedule in Vietnam.

Prepare a certificate confirming negative SARS-CoV-2 results (in English) tested by the viral RNA (RT-PCR/RT-LAMP, etc.) detection from a competent health authority 3-5 days before entry.
2. Upon entry
Take a COVID-19 test at the border checkpoint (the 1st day of COVID-19 test).

If the test result is positive, they must immediately implement medical isolation at the medical facility.

If it is negative or not clear, the entrants are taken to their registered quarantine facility.
3. At the concentrated quarantine facility
All cases are sampled for the second test on the 6th day of entry or as soon as they have suspected symptoms of disease.

If the test result is a positive, they must immediately implement medical isolation at the medical facility.
If it is negative, they move to their accommodation for further quarantine until full 14 days of entry and follow the epidemic prevention measures in accordance with the current guidance of the Ministry of Health.
4. At the accommodation
Strictly implement measures of medical supervision, quarantine, epidemic prevention, avoid contact with the community and immediately notify the health authorities upon any sign of suspicion of COVID.

The local health authorities carry out medical supervision according to regulations and take samples for SARS-CoV-2 test on the 14th day of entry or upon any suspected symptoms. If the test result is positive, they must immediately implement medical isolation at the medical facility.
Entering Vietnam with a Business Visa: The Procedure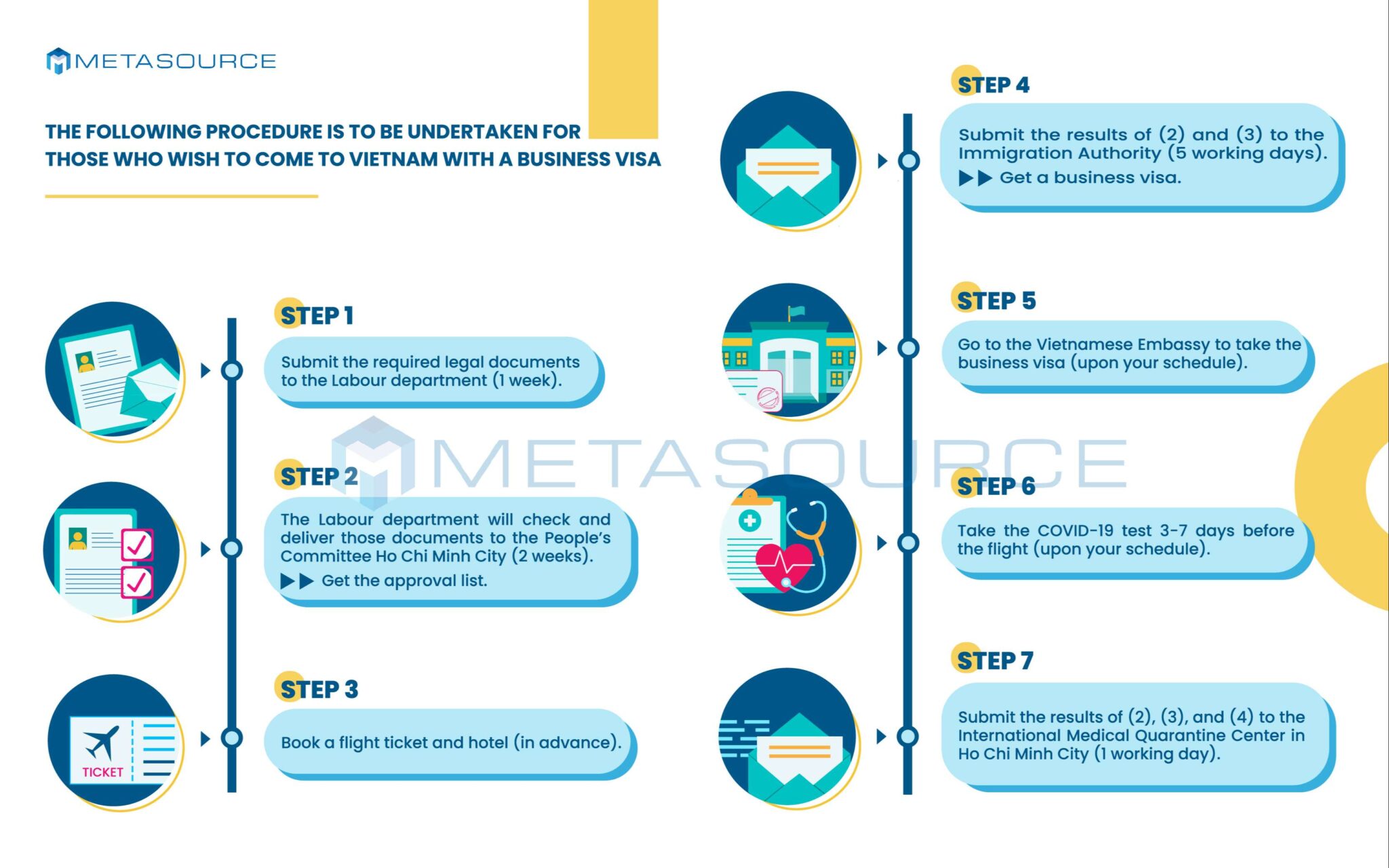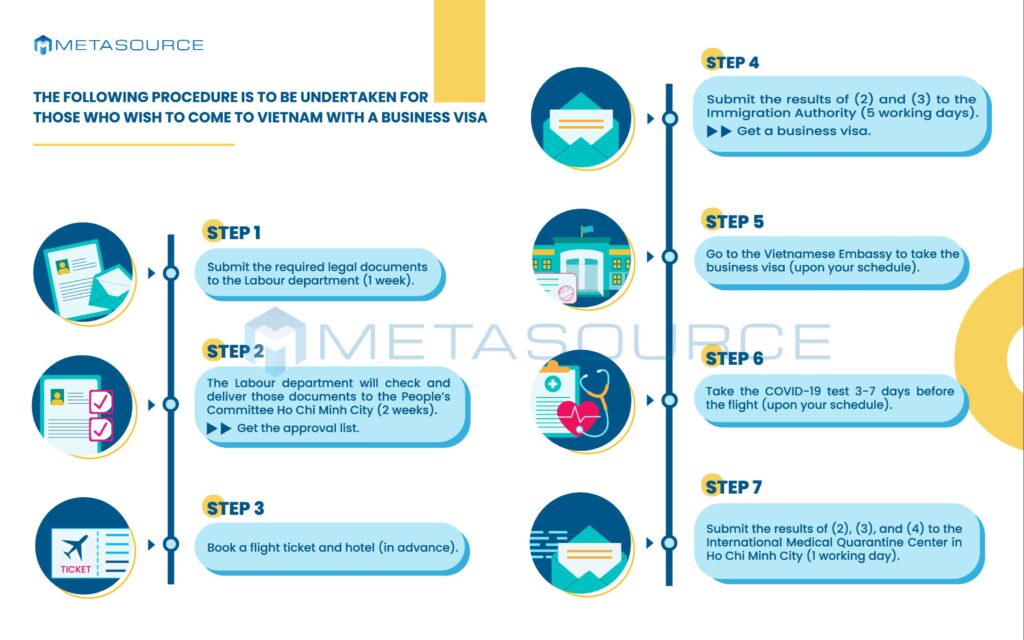 RELATED: Business Entry Guide In Vietnam Amid COVID-19
Consult with Metasource Prior to Your Entry to Vietnam
The immigration regulations may change from time to time based on the newest situation related to COVID-19 crisis. Therefore, it would be best to consult with a visa specialist; who always keeps up with the latest changes pertaining to visa application, entering Vietnam and quarantine requirements. At this moment Metasource does not offer single-use Visa applications, due to the ongoing changes to the immigration rules you MUST apply for one of our Business Set Up services in conjunction with a Visa application.
Fill in the form below should you have a plan to visit Vietnam. We will be happy to provide you with professional advice and assistance.