This article will provide you with all of the information you need to know about Vietnam visa extension and renewal, allowing you to extend your stay in Vietnam without leaving the country.
But before you go, kindly note the policy for Vietnam visa extension in Covid as follows:
If you entered Vietnam with either a Visa Exemption, E-Visa or Tourist Visa from March 1, 2020, you will be eligible for the "automatic visa extension" until June 30, 2021. Hence, you will be allowed to stay in the country until June 30, 2021 without needing to file for a visa extension. 
If you entered BEFORE March 1, 2020, you will be eligible for the visa extension until June 30, 2021 if you show either of the following documents:
Certificate showing your diplomatic mission in Vietnam through an official Diplomatic Note stating that you are stuck in Vietnam due to COVID-19 (attached with a translation in Vietnamese);

Documents issued by the Vietnamese authorities certify that you have undergone quarantine or treatment for COVID-19 or are stuck here due to reasons beyond your control.
Prevent incurring additional charges for overstaying by showing these documents with exiting Vietnam. Again, this only works for those who will leave Vietnam by June 30, 2021. 
Those eligible for an "automatic visa extension" must declare their temporary housing situation to the local police and complete a health declaration form. 
(Updated by the Vietnam Immigration on June 30, 2021)
What is a visa extension or renewal?
This section will explain what visa extension and renewal are in Vietnam and how they differ from one another.
Visa extension
Visa extension is applied for foreigners who wish to prolong their current stay in Vietnam without leaving the country. By this action, you will get an extension stamp on your passport indicating your new stay duration.
Note: Visa extension is good for single entry only.
Visa renewal
Visa renewal is almost the same as visa extension as it also allows foreigners to extend their stay in Vietnam without leaving the country.
However, if you renew your visa, you will be granted a new visa sticker and stay duration stamp on your passport with the new duration permission. The visa renewal fee is higher than the visa extension fee because of the additional stamp and visa sticker.
Note: The Vietnam Immigration Office does not offer this service now. We will keep you updated on new developments.
Visa Extension/Renewal Requirements
To extend/review Vietnam visa, your original passport must:
Be valid for at least 06 months from the time of extension/renewal.

Have at least 02 blank pages.
Why should you choose a Vietnam visa extension?
The only choice to continue remaining in Vietnam legally after your visa expiry date without leaving the country as visa run is not available during COVID 19

Save your cost as the extension fee is much cheaper than the renewal fee.

Avoid Vietnam Immigration Department's blacklist from overstaying

Settle your business in Vietnam without having to go back and forth
Where to Extend Visa in Vietnam
The following Immigration offices are those in charge of extending visas in Vietnam.
Hanoi immigration office: 44-46 Tran Phu, Ba Dinh District, Hanoi

Immigration office in Da Nang: 78 Le Loi, Thach Thang, Hai Chau, Da Nang

Immigration office in Ho Chi Minh City: 196 Nguyen Thi Minh Khai, Ward 6, District 3, Ho Chi Minh city

Working hours: Monday-Friday (Morning: 7am – 11h30am; Afternoon: 1h30pm – 5pm) and Saturday (Morning time only)
How to extend Vietnam visa
You can apply for a visa extension on your own directly at the Vietnam Immigration Department or apply through our Vietnam visa extension service for your convenience. 
Metasource 3-step Visa Extension Service: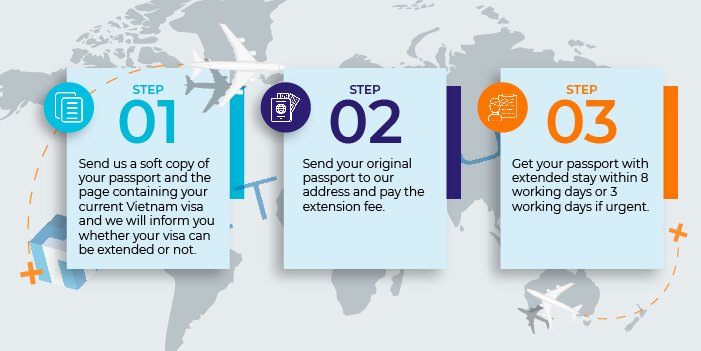 Metasource provides the package of entry services for foreign experts
To support enterprises with the legal procedures, Metasource provides entry services for foreign experts. This service package saves costs and ensures efficiency and safety before and after entry.
Entry official letter & special quarantine plan according to regulations

Giving consultancy on other services:

work permit, visa renewal, temporary resident card, etc.

Providing hosting service, back office,…
If you need more information about the service package and quotation of the entry services for experts, please contact us via email to info@metasource.co. Our team of specialists will give you a free consultation!