In 2020, Southeast Asia's internet economy crossed the $100 billion mark, reaching $105 billion. More impressively, ecommerce in Vietnam alone accounted for $11.8 billion, and is projected to reach $52 billion by 2025. Clearly, the ecommerce industry in Vietnam plays, and will continue to play, a leading role in propelling economic growth in Vietnam and SEA at large. But what has led to this staggering growth? In this article, Metasource breaks down key factors driving ecommerce in Vietnam.
Factors Contributing to Ecommerce Market Growth
The ecommerce market in Vietnam has grown substantially because the interactions between customers, businesses, and government have been in-sync. Ecommerce businesses have benefited greatly from a more online Vietnam population, and the government has done much in their stead to support this growth.
#1: An Increasingly Online Society
Vietnam's online society has grown rapidly since Internet services became available locally in 1997. In 2000, when those services were opened to the public, only 0.2% of the population had access to it; fast forward to January 2020, and there are 68.17 million (~70% of total population) Internet users. Users are spending 6.5 hours on average daily on the Internet, roughly 40% of their waking life.
Ecommerce industries have capitalized on Vietnam's growing Internet usage, and proliferated their services across all platforms. According to Adsota, retail and ecommerce services accounted for 23.9% of $1.26 billion spent in online marketing in 2019. As users engage with Internet content, their exposure to ecommerce services increases in tandem.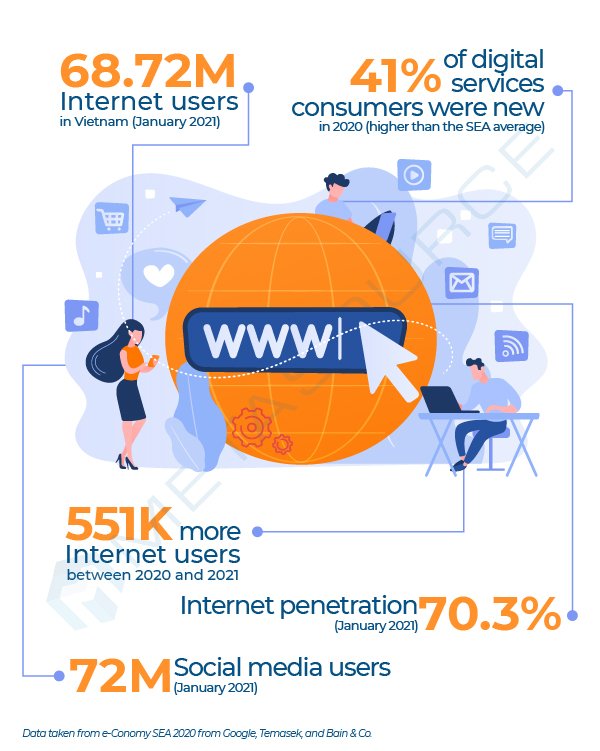 #2: Smartphones and Online-shopping
Though there exists no exact correlation, one can postulate that increase in smartphone usage in Vietnam has made the Internet so accessible to the Vietnamese population. In fact, according to data from Statista, most Vietnamese prefer using smartphone apps to shop online, in contrast to PCs, which declined in preference from 2016-2019. Smartphone apps make online-shopping incredibly convenient, as you can browse catalogs on-the-go. Additionally, according to a 2018 report from Nielsen, more than 50% of Vietnamese respondents stressed "convenience" as a major factor impacting purchase decisions.
When you combine the importance of convenience with the widespread usage of smartphones, it makes sense why ecommerce would appeal to Vietnamese people.
#3: Better Online Payment Systems
One of the biggest obstacles for ecommerce businesses was getting customers to embrace digital payment systems. This was a problem for 3 reasons:
Vietnamese people are not very trusting of their banking systems
Digital payments were not very intuitive, easy-to-use
Vietnamese people value money, and prefer to "touch" or see their product before buying
For those reasons, COD (cash-on-delivery) was, and is still a popular form of payment for online-shopping. However, the growing fintech industry in Vietnam has led to a lot widely used e-wallet services, such as MoMo, Moca, ZaloPay, and Airpay (ShopeePay). Innovation in e-wallet services has made Vietnamese people more receptive to paying for the goods digitally, and the number of cashless payments for ecommerce goods is expected to be 50% by 2025.
#4: Ideal Regulatory Environment
In the ASEAN region, Vietnam ranks 4th on World Bank's Ease of Doing Business in 2020. FDI is extremely welcome in Vietnam, with looser law and regulation for establishing representative offices and businesses here. Additionally, Vietnam is part of several free and bilateral trade agreements both locally and globally, enabling imports and exports with preferential customs duties. If you want to read more on why you should consider trading in Vietnam, read more here.
However, in May 2020, the Ministry of Industry and Trade (MoIT) put forth draft Decree 52, with several amendments to be made for ecommerce activity in Vietnam. Overall, the amendments places stricter regulation on foreign and offshore companies to comply with Vietnamese regulations. This may be part of the government's ecommerce development plan 2025, which aims to grow local ecommerce entities. Metasource is actively following developments to the Decree, and you can find updates here.
Looking Forward
While the draft Decree 52 may place some strain on foreign ecommerce companies, the market remains promising on all fronts. Ecommerce companies have figured out how to market to Vietnamese people effectively, and vast R&D is underway to make digital systems more receptive towards Vietnamese people. Additionally, a growing, tech-savvy population serves as a profitable customer base for ecommerce businesses planning to expand to Vietnam.
Metasource offers recruitment, hosting, and legal services to foreign companies looking to start or expand to Vietnam. You can contact us at info@metasource.co to receive a free consultation, or fill out the contact form below.